Costa del Sole
On the
western side of Elba Island,
along the
panoramic Coast
which stretches from the hill of Colle Palombaia to Colle D'Orano for about
10 kilometres,
there is the famous
Costa del Sole.
The name derives from its favourable position to the sun shining basically all day from dawn until sunset.
The sun, together with the granite rocks keeping its heat, releases a particularly mild microclimate even during winter. In fact here can grow even tropical plants such as banana and palm trees of all species, in addition to lemon and oranges trees.
Given its benevolent climate this is the most frequented stretch of coast even during the low season by tourists, willing for an early or late swim in the sea.
Paying a little attention while driving along the main road you will find a granite boulder with the name Costa del Sole engraved marking the start and the end of this stretch of coast on both sides.
Along Costa del Sole there are many guest structures such as Hotels, Bed & Breakfasts, residences, Villas and Apartment for rent where is possible to book you holiday in Elba. In the later years these accommodation businesses have formed the Costa del Sole Association to protect and value the territory as well as witnessing important artistic, historical and cultural evidences.
Along Costa del Sole you will find some of the most beautiful beaches not only of Elba but also of Italy, such as the beach of Cavoli, the beach of Fetovaia and the lovely coves sheltering the villages of Pomonte and Chiessi.
Elbaworld suggests
Discover places and attractions nearby.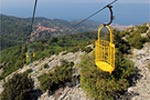 Discover incredibly beautiful excursions on Elba Island.