Costa dei Gabbiani
Costa dei Gabbiani
is a wild stretch of the
East Coast of Elba Island,
dominated by
Mount Calamita.
Characterized by high cliffs overlooking the sea and by many small coves and small beaches, it owes its name to the presence of the herring gull, which lives and nests in this part of the coast.
Following the road of the old mine it is possible to go through a stretch of Costa dei Gabbiani. The coast is almost inaccessible, as bounded on both sides by a barrier; it is only accessible with permission or by guests of the touristic village that has marked the entire private property.
Thanks to this limitation this stretch of coast has remained unspoiled and wild, characterized by beautiful landscapes and lovely bays surrounded by the uncontaminated Mediterranean maquis.
The complete path that runs along Costa dei Gabbiani goes along the eastern side of Mount Calamita, where you will find the beach of
Buzzancone
and the small beach of Cera until reaching the location of Poggio Fino through a dirt road.
Continuing along the dirt road the paths lead to the location of Carbonaia and Ginepro, known for the presence of the only underground mine in Elba and for the presence of the largest Magnetite field of Europe.
An alternative way to get to Poggio Fino is the one leading to Poggio Turco, located in the south-eastern side of the island in the mining district of Capoliveri, which reaches a height of 191 meters above sea level. During clear days from here it is possible to enjoy a spectacular panorama that opens up to Argentario and to the neighboring islands of Pianosa and Montecristo, which belong to the Tuscan Archipelago. The name seems to come from a military post built in the sixteenth century, which was used to control the sea from the Turkish invasions.
Elbaworld suggests
Discover places and attractions nearby.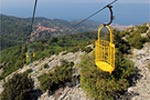 Discover incredibly beautiful excursions on Elba Island.