Patresi, town
of the municipality Marciana
Patresi Tourist information
The pretty little area of Patresi is a tourist location situated on the Western Coast Elba Island, in between Chiessi and Sant'Andrea. The road that leads to Patresi is well signeposted and it is enough to pay a little attention while driving.
Once you get to Portoferraio with the ferry, there are two ways to reach Patresi: closeby Procchio's croassroad you can go to Marciana Marina and then follow the direction to Patresi, or you can get to Marina di Campo and then go towards Patresi.
The distance from Portoferraio is about 25 km in each way.
Patresi doesn't offer many tourist services, however it is a stunning and unique destination for those who want to enjoy a relaxing holiday.
The available accommodations in Patresi are mostly Apartments for rent, Hotels, Bed & Breakfast; in the centre of the village you will find Restaurants and a grocery store.
The uncontaminated nature offers various walking tracks within the valley as well as along the coast. In addition, its seabed is appreciated by divers. In Patresi there is also a fascinating lighthouse located above a cliff that can be reached by following il Faro street.
About 1 km below the main road there is the beach of Patresi, which is mainly composed by pebbles and it is not so much crowded even during the high season.
Beaches close to Patresi
The beach of Patresi can be reached via a 1 km long paved road that will take you down to a small beach about 100 metres long characterized by pebbles and cliffs at the two ends of its small gulf. There is also a small quay in front of a nice bar which is ideal to freshen up and to have a break from the sea and the sun. Patresi's seabed is highly appreciated by those who love diving and underwater fishing.
Elbaworld suggests
Discover places and attractions nearby.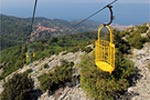 Discover incredibly beautiful excursions on Elba Island.