Fetovaia Beach
Fetovaia Beach Tourist information
Sandy beach in the municipality of Campo nell'Elba
Features of Fetovaia beach
Length: 300 meters - Average width: 30 m
Exposed to: Southern winds - Sheltered to: winds from West to North-East
GD: 42.732859 - 10.153529
GMS Latitude: 42 ° 43'58.291''N - Longitude: 10 ° 9'12.704''E

---
Description of Fetovaia beach
The beach of Fetovaia is one of the most popular and crowded beachin Elba Island and it is part of a magnificent natural setting. The beach, composed of fine granitic sand, is closed to southwest by the spectacular homonymous peninsula, which protects the bay from west winds. Behind the shore, rises Mount Cenno, on the slopes of Mount Capanne, which protects Fetovaia from Tramontana (North wind) and creates a warm microclimate even in winter. The Bay of Fetovaia is open to the sirocco wind (South-East wind) and this is the only wind that can disturb the peaceful atmosphere of the beach.
What distinguishes this beach is the natural beauty of the bay, with a crystal and turquoise sea protected by the promontory of Fetovaia, which is covered by the Mediterranean maquis until the sea. Thanks to its beauty, this almost white granitic sandy beach is one of the busiest in Elba island and it is both occupied by beach clubs and free zones.
Access to the beach of Fetovaia
You can reach the beach resort of Fetovaia by car, along the main road a paved road goes down to the sea, where, however, there are few free car parks, while you can always park in a private guarded parking area.
Amenities available on this beach
| | | | | | |
| --- | --- | --- | --- | --- | --- |
| | Apartments nearby | | Bar | | Bocce |
| | Connected to Bus | | Crowded in the season | | Equipped beach |
| | Free beach | | Hotels nearby | | Lane entrance for boats |
| | Limited Parking | | Sandy beach | | Snacks |
| | Snorkeling | | Suitable for Children | | Suited to Kayaking |
| | Toilet | | Watersports | | |
Online availability request
Elbaworld suggests
Discover places and attractions nearby.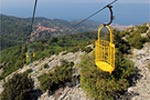 Discover incredibly beautiful excursions on Elba Island.