Campo Lo Feno beach
Campo Lo Feno beach Tourist information
Pebbly beach of the Municipality of Marciana
Characteristics of Campo lo Feno beach:
Length: 500 meters - Average width: 4 m
Exposed: winds from West
Sheltered: from North-West Mistral wind from Punta Nera
GD: 42.76791 - 10.10364
GMS Latitude: 42°46'4.474''N
Longitude: 10°6'13.103''E

---
Description of Campo lo Feno beach
Campo lo Feno beach is located on the extreme point of the Western Coast of Elba Island in the municipality of Marciana. It has a long and narrow pebbly strand mixed with smoothed stones. Since it is difficult to reach it from the coast it isn't much frequented and offers great seabeds which are ideal for snorkeling.
Access to Campo Lo Feno beach
The beach can also be reached by land, but the trail is really challenging, so it is better to get to this beach by sea, in fact it is visited by swimmers with a dinghy or a motor boat. For those who wanted to reach it by land: along the main road connecting Chiessi and Sant'Andrea and passed Punta Nera, you will find a very beautiful path characterized by prickly pears and rosemary.
Once overcome the gate the path becomes more challenging and dangerous, as it is steep and very slippery because of the unstable ground, that's why we suggest you to wear suitable shoes and anyway it is preferable to go with someone else.
The walking path lasts 15 minutes before getting to the wild beach of Campo Lo Feno.
Foto by Campo Lo Feno beach
Amenities available on this beach
| | | | | | |
| --- | --- | --- | --- | --- | --- |
| | Free beach | | Not accessible by car | | Pebble beach |
| | Unfrequented | | | | |
Elbaworld suggests
Discover places and attractions nearby.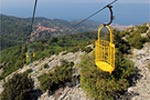 Discover incredibly beautiful excursions on Elba Island.