Tombe beach
Tombe beach Tourist information
Dark pebbly beach of the Municipality of Campo nell'Elba
Features of Le Tombe beach:
Length: 200 meters - Average width: 10 m
Exposed to: Southwestern winds
Sheltered to: winds from North to East
GD: 42.732811 - 10.139732
GMS Latitude: 42 ° 43'58.121''N - Longitude: 10 ° 8'23.034''E

---
Description of Le Tombe beach
Le Tombe, are three small beaches close together and they own the name to the presence of some Etruscan tombs found nearby. This beautiful wild beaches, free of any service, are composed of dark pebbles polished by the sea. In order to reach them by land you need to cross the location of Le Tombe through a challenging trail which is about 2 km from the tourist resort of Pomonte.
Once you reach the seaside you are on Punta le Tombe from which left you can see two beaches, the largest one about 100 meters long. Between the beaches there are large boulders not suitable for sunbathing. At the opposite side, the beach at right, is generally frequented by nudists.
The beaches are composed of medium-fine gravel and they are exposed to the southeastern winds, while dark cliffs protect it from the northern winds. Moreover, the dark stones create a warm microclimate, therefore the beach is also indicated in low season. The landscape is pristine with crystal waters and although it is difficult to reach, it is definitely worth a visit for its beauty.
Access to the beach of Le Tombe
You can reach Le Tombe beach walking down to the sea along a path, which in the last section looks steep and bluff. The trail starts from the main road near two pines that have grown below the road, precisely at the 16th km of the provincial road number 25. At the very beginning of the path, on a block of serpentine, there are reported the classic red and white colors which mark the trail.

Coming from Marina di Campo, once you overtake the villages of Cavoli, Seccheto and Fetovaia, you will find along the road an open space with a playground for children, few meters ahead you will see another small open space at the edge of the road where a dozen of cars can be parked .
It takes about 10 minutes on foot to reach the beach, through a path surrounded by the Mediterranean maquis, along which you can appreciate the colors and scents emanated by rosemary, lavender and rock rose, the white and the red one.
Amenities available on this beach
| | | | | | |
| --- | --- | --- | --- | --- | --- |
| | Free beach | | Limited Parking | | Not accessible by car |
| | Pebble beach | | Snorkeling | | Unfrequented |
| | Watersports | | | | |
Elbaworld suggests
Discover places and attractions nearby.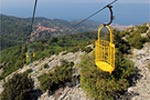 Discover incredibly beautiful excursions on Elba Island.