Pomonte beach
Pomonte beach Tourist information
Pebbly beach in the municipality of Marciana
Features of Pomonte beach:
Length: 250 meters - Average width: 8 m
Exposed: winds from South-East to West
Sheltered to: Northern winds
GD: 42.745824 - 10.118808
GMS Latitude: 42°44'53.666''N
Longitude: 10°7'7.708''E

---
Description of Pomonte beach
The beach of Pomonte is located on the Western Coast of Elba and it is reachable by taking the road from the village until the sea. Pomonte offers four types of beaches and access to the sea.
The most renowned is Ogliera beach characterized by granite pebbles and located in front of the Ogliera rock. Adjacent to Ogliera beach there is the beach of Quartiere, 100 metres long, also known as the Wreck beach. It is partly free to access and partly occupied by beach services.
Closer to the village there is the beach of Scalette, which is generally uncrowded, free to access and characterized by big beautiful white pebbles; it is divided by a small wood bridge.
On the east side, the beach is narrow and often occupied by boats brought ashore along the street adorned by tamarisk trees ; while the western side is larger and has the same morphological characteristics. These crystal clear waters attract divers, snorkeling and underwater fishing lovers who can also visit the nearby Elviscott wreck lying 15 meters below sea level in front of the nearby Ogliera beach, reachable on foot or swimming.
On the western coast of the village there are also beautiful granite cliffs that are frequented by swimmers to enjoy relax and sunbath. The most famous cliffs are Cala Maestrale and Calello where there is an old leave port witnessing mining activity of granite once happening on this stretch of coast. Granite was then embarked on ships to Pomonte thanks to these leave port which were facilitating the operation.
The beach is not so much crowded and it is easy to reach on foot for those who stay in the near tourist structures such as Hotels, Bed & Breakfasts and Apartments for rent in Pomonte.
Access to the beach of Pomonte
The beach of Pomonte is easy to reach, you just have to find a place to park your car in one of the parkings in the village of Pomonte and then descend along the driveway that leads to the beach. The beach is on the waterfront.
Amenities available on this beach
| | | | | | |
| --- | --- | --- | --- | --- | --- |
| | Apartments nearby | | Bar | | Connected to Bus |
| | Free beach | | Hotels nearby | | Parking |
| | Pebble beach | | Restaurants | | Rocks |
| | Snacks | | Snorkeling | | Toilet |
| | Visited medium | | Watersports | | |
Select all
Hotels
a Pomonte
Loc. Pomonte - 57030 Marciana
Online availability request
Elbaworld suggests
Discover places and attractions nearby.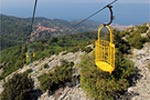 Discover incredibly beautiful excursions on Elba Island.