Giardino brach
Giardino brach Tourist information
Small gravelly and pebbly beach of the Municipality of Campo nell'Elba
Features of Giardino beach
Length: 50 meters - Average width: 4 m
Exposed to: Southern winds
Sheltered to: winds from North to East
GS: 42.735065 - 10.133659
GMS Latitude: 42 ° 44'6.235''N - Longitude: 10 ° 8'1.173''E

---
Description of Giardino beach
The name Giardino represents two small beaches adjacent one to another. One has an average length and it begins to the left of the path leading to the sea, the other one, smaller, begins on the right and continues hidden by a group of rocks. The two beaches are composed of gravel and dark pebbles which get hot under the sun.
Dark green shaded cliffs, characterized by the oxidation of iron and other minerals, rise behind the shore. Through the decades, some landslides brought down on the beach and in the sea ​​large stone blocks that obstruct a bit those lovely beaches.
Access to the beach of Giardino
You can reach the beach along the main road between Fetovaia and Pomonte, respectively 1.9 km and 2.3 km far from a perfect pitch where you can park the car, just nearby a small isolated ruin where a path leads you down to the sea. In about a ten minute walk surrounded by the Mediterranean maquis you can enjoy the beaches of Giardino.
Amenities available on this beach
| | | | | | |
| --- | --- | --- | --- | --- | --- |
| | Free beach | | Not accessible by car | | Pebble beach |
| | Snorkeling | | Unfrequented | | Watersports |
Elbaworld suggests
Discover places and attractions nearby.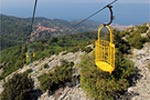 Discover incredibly beautiful excursions on Elba Island.