Bike
Island of Elba gives different pathways able to satisfy every different type of bikers. The Elba's surface is in major part full of mountain and hill, that make interesting the pathways that cross among wilde valley, gest over great wood , and panoramic coast covered from the mediterranean scrub that gives intense scent. You could spend the days between sea and travelling by bike, thanks to the climbs and slope of the area, enjoyng a very active holiday.

To discover the more suggestive pathway at Elba Island and the bike pathway, it is reccomended to reseve an expert tourist guide, who during the driving journey by bike, will also talk about the local history and will make you discover animal and vegetal species that only an expert eye can see.
The fashinating technical route at the foot of Monte Giove, inside the Elba Gravity Bike Park.


The Bike Path of Mezza Strega is inside the Elba Gravity Bike Park and is spread over a 3.39 km route.



Panoramic path which crosses the Monte Strega with a demanding come down inside the Elba Gravity Bike Park.



Very technical pathway, suitable for bikers with good driving skills in the Elbe Gravity Bike Park.


Challenging course, redeveloped by volunteers of Elbe Gravity Bike Park with breathtaking views


The pathway's start is 1 km far from Cavo and it lies on a very technical boulevard for 7,8 km in the Elba Gravity of Bike Park.


Amusing and technical patway inside the Gravity bike park at Elba Island .


Elbaworld suggests
Discover places and attractions nearby.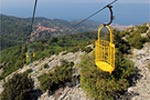 Discover incredibly beautiful excursions on Elba Island.