Acquabona, town
of the municipality Portoferraio
Acquabona Tourist information
The location of Acquabona is in Elba and administratively belongs to the municipality of Portoferraio which is about 4 km away. Its land mostly flat has allowed over the years the development of important settlements such as agricultural estates that now offer excellent wines from Elba.
The resort of Acquabona in Elba Island is the ideal place for sport tourists and golfers; there is in fact a Golf Club, with its golf field that is spread over a panoramic hill.

To reach the location of Acquabona take the road from Portoferraio to Porto Azzurro,at about half way near the junction of Lacona you will find the magnificent natural environment and Golf field.
For those looking for an accommodation where to spend their holidays in Acquabona there is the chance to stay in an Agritourism, Hotels and Bed & Breakfast, Residence and Apartments for rent.
Beaches close to Acquabona
Nearby Acquabona you can visit the beaches of Bagnaia, Magazzini and Ottone on Portoferraio's side; while on the southern coast you can discover the beaches of Felciaio and Lido di Capoliveri.
Elbaworld suggests
Discover places and attractions nearby.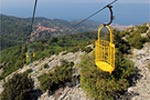 Discover incredibly beautiful excursions on Elba Island.