Spiaggia di Acquarilli
Spiaggia di Acquarilli Tourist information
Sandy and pebbly beach of the Municipality of Capoliveri
Features of Acquarilli beach:
Length: 215 meters - Average width: 10 m
Exposed to: winds from South -
Sheltered: Northern winds
GD: 42.753523 - 10.335345
GMS Latitude: 42°45'48.686''N - Longitude: 10°20'7.242''E

---
Description of Acquarilli beach
The beach is mainly characterized by dark sand and pebbles,and it is hard to reach by land. Located between the most famous beaches of Lacona and Lido di Capoliveri, it is hidden under the high costs that stand behind it where the panoramic road runs along the southern side of the Elba. Wild and quiet even in high season, given its limited access by land, it is ideal for those seeking a beach to relax. Its small cove is mainly frequented by small motor boats. The pristine environment offers a wonderful sea characterized by incredible transparencies and seabeds that will leave you breathless, in fact this beach is very suitable for snorkeling and diving.
The Municipality of Capoliveri recognized in 2015 the beach of Acquarilli as nudist beach.
Access to Acquarilli beach
To reach the beach Acquarilli is a bit complicated due to the reef that separates it from the main road. After parking the car in a dirt clearing near the tip, you can go down a rough path leading to the beach, through a steep descent through the low Mediterranean maquis.
Amenities available on this beach
| | | | | | |
| --- | --- | --- | --- | --- | --- |
| | Beach sand mixed with gravel | | Not accessible by car | | Parking |
| | Unfrequented | | | | |
Elbaworld suggests
Discover places and attractions nearby.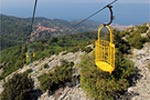 Discover incredibly beautiful excursions on Elba Island.