Lido di Capoliveri Beach
Lido di Capoliveri Beach Tourist information
Sandy beach within the Municipality of Capoliveri
Features of Lido di Capoliveri:
Length: 400 meters - Average width: 12 m
Exposed to: winds from Southwest to Southeast
Sheltered: winds from the northern quadrant
GD: 42.760239 - 10.355831
GMS Latitude: 42°45'36.861''N - Longitude: 10°21'20.995''E

---
Description of Lido di Capoliveri
One of the most popular beaches of Capoliveri is surely the beach of Lido di Capoliveri, that thanks to its size and its services attracts many swimmers during the summer season. Particularly suitable for children due to its shallow waters, it is also loved by young people who can have fun with many water sports.
The beach is composed of medium-grained sand mixed with small polished pebbles, not very wide it extends more in length. The beach offers many services such as restaurants, bars, rental of umbrellas and sunbeds, beach clubs, windsurfing school, lane boats, diving school and many other attractions.
Access to the beach of Lido di Capoliveri
It is located on the southern side of Elba, more or less in the middle of the island and it can be reached from both sides from the main road to # 26, halfway between the towns of Portoferraio and Porto Azzurro. For those coming from Portoferraio, before arriving at the crossroads of Capoliveri, the first entry is reported on the right and leads after 650 meters to a large parking with parking meter; while the second entrance is to be found about 300 meters further down the road towards Porto Azzurro. Turn right there and drive about 300 meters until reaching the seaside resort and the beach of Lido di Capoliveri. The two entrances lead to the two opposite sides of the bay, a few meters from the beach. The entrance located west provides more parkings especially during the summer, when the beach is particularly popular, while the entrance to the east, closer to Porto Azzurro offers the only possibility of parking thanks to private pay parking.
During summer, the beach is connected to the village of Capoliveri and the other nearby beaches , thanks to the the Shuttle Bus service.
Amenities available on this beach
| | | | | | |
| --- | --- | --- | --- | --- | --- |
| | Apartments nearby | | Bar | | Beach volley |
| | Boat rental | | Bocce | | Campsites nearby |
| | Connected to Bus | | Crowded in the season | | Disabled |
| | Equipped beach | | Free beach | | Hotels nearby |
| | Ice cream shops | | Lane entrance for boats | | Mooring boats |
| | Nearby grocery | | Parking | | Residence near |
| | Restaurants | | Sandy beach | | Snacks |
| | Snorkeling | | Suitable for Children | | Suited to Kayaking |
| | Toilet | | Watersports | | Windsurfing school |
Elbaworld suggests
Discover places and attractions nearby.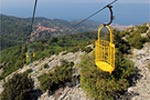 Discover incredibly beautiful excursions on Elba Island.