Ottone beach
Ottone beach Tourist information
Sandy and gravelly beach within the Municipality of Portoferraio
Features of Ottone and Ottonella beaches:
Length: 350 meters - Average width: 6 m
Exposed to: winds from Southwest to Northwest
Sheltered to: winds from South to East
GD: 42.802135 - 10.360475
GMS Latitude: 42°48'7.684''N - Longitude: 10°21'37.709''E

---
Description of Ottone beach
The beach of Ottone is a long strip of sand and gravels, which covers a stretch of coast about 350 meters long with a small wooden jetty in the middle. Behind the shore it stands the Nineteenth century Villa Ottone, today used as luxury hotel, which is bordered by a fence in some places made of stone. The beach is protected within the Gulf of Portoferraio and it is equipped with beach services, making it also suitable for families with children as its sandy and pebbly shore slopes gently into the sea. The beach is not very crowded and it is frequented mostly by the guests of the nearby accommodations.
The smaller beach of Ottonella, which rises to the right of the major one, has similar characteristics, but without services and wild-looking. It is separated from the Ottone beach by a small stretch of rocks which you can walk through. A peculiarity of Ottonella beach is the lush vegetation that grows behind it, offering shaded areas. The stretch of coast that develops on the right and separates Ottonella from the tourist resort of Bagnaia is very interesting for snorkeling.
Access to Ottone beach
The beach of Ottone is located on the road that from Portoferraio leads to Bagnaia. From the main road you can reach the beach stepping down a small path. Instead, to reach the beach of Ottonella you need to go further along the main road until you find a path between a holm oak wood. You can reach it also by sea, through the beach of Ottone.
Amenities available on this beach
| | | | | | |
| --- | --- | --- | --- | --- | --- |
| | Bar | | Beach sand mixed with gravel | | Campsites nearby |
| | Floating dock | | Free beach | | Hotels nearby |
| | Limited Parking | | Snacks | | Snorkeling |
| | Suitable for Children | | Visited medium | | |
Elbaworld suggests
Discover places and attractions nearby.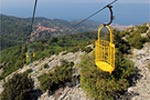 Discover incredibly beautiful excursions on Elba Island.