Biodola beach
Biodola beach Tourist information
Wide sandy beach within the Municipality of Portoferraio
Features of Biodola Beach:
Length: 600 meters - Average width: 15 m
Exposed to: winds from Southwest to North
Sheltered to: winds from South and Southeast
GD: 42.801434 - 10.268226
GMS Latitude: 42°48'5.162''N - Longitude: 10°16'5.612''E

---
Description of Biodola Beach
The beach of Biodola is located in the middle of the Island of Elba on the Northern Coast. The large and beautiful sandy shore stretches along the bay in front of the tourist resort of Biodola and it is characterized by a beautiful fine sand of light color. The beach is ideal for families with children and for people with disabilities given the easy access to the beach. In fact, the waters are shallow and the seabed slopes gently into the sea.In summer, some areas of the beach are frequented also by youth groups.
Biodola is one of the most beautiful beaches in the northern side of Elba, and it offers clear waters especially during the days of sirocco. The beach is partly free and sometimes occupied by beach clubs and rentals where you can rent an umbrella with sunbeds. On the beach you can find the major tourist services since Biodola is one of the most popular tourist resorts of the island.
You can find accommodations for your stay in Elba nearby the beach, such as Hotels, Apartments for rent and Residence.
Access to Biodola beach
You can reach it easily by car, halfway the road that leads from Portoferraio to Procchio. Once you are on the highest point of the hill you can see the wonderful Gulf of Biodola with its turquoise waters. Turn right and take the road downhill, following it for about 2 km until you reach the beach. Before reaching the shore there is also a fork to the right that leads to the nearby beaches of Scaglieri and Forno.
Amenities available on this beach
| | | | | | |
| --- | --- | --- | --- | --- | --- |
| | Apartments nearby | | Bar | | Boat rental |
| | Bocce | | Campsites nearby | | Connected to Bus |
| | Crowded in the season | | Disabled | | Equipped beach |
| | Floating dock | | Free beach | | Hotels nearby |
| | Ice cream shops | | Lane entrance for boats | | Limited Parking |
| | No animals | | Residence near | | Restaurants |
| | Sandy beach | | Snacks | | Suitable for Children |
| | Suited to Kayaking | | Toilet | | Watersports |
Select all
Hotels
a Biodola
Località La Biodola, 13 - 57037 Portoferraio
Online availability request
Elbaworld suggests
Discover places and attractions nearby.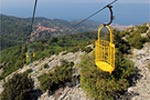 Discover incredibly beautiful excursions on Elba Island.