Cavoli beach
Cavoli beach Tourist information
Sandy beach of the Municipality of Campo nell'Elba
Features of Cavoli beach:
Length: 300 meters - Average width: 20 m
Exposed to: Southern winds
Sheltered to: winds from North to East
GD: 42.737586 - 10.186349
GMS Latitude: 42 ° 44'15.31''N - Longitude: 10 ° 11'10.856''E

---
Description of Cavoli beach
Cavoli was once one of the places where granite was extracted and loaded, an activity which was very frequent in the area. Since the 70s the beach of Cavoli has become the most popular and fashionable of Elba Island, very popular among young people who in summer overcrowd this beautiful place organizing beach parties.
This wonderful shore owes its success to its southern exposure and other natural peculiarities, such as the clarity of the sea, its sand and the granite cliffs.
With its height, Mount Capanne (1,019 meters), protects the bay from northern winds, creating a microclimate that allows sunbathes and swims even out of season. The sun warms the granitic valley and its sandy bay characterized by shallow waters resulting in a positive thermal anomaly: in fact, the rocky slopes abound of prickly pears and other plants typical of hot climates such as agave and aloe vera.
The beach has visitors from the end of March until late November.
The sand is composed mostly of quartzose grains, that rarely darken the Gulf, which is characterized by turquoise waters. The sandy shore is about 300 meters long and it is splitted into two beaches by a short cliff: the widest part measures approximately 250 meters and it has both free and equipped areas, with beach clubs.
There is also the popular Convio, a meeting place for young people having fun, where during the summer season are held many events and beach parties with music. The shortest shore (about 50 meters long) is located on the west side and it is divided from the main beach by a small cliff; this smaller beach is entirely free and it is frequented by those looking for a bit of tranquility thanks to its wild look.
Access to the beach of Cavoli
You can reach the beach of Cavoli by car, following the main road for about 5 km from Marina di Campo. As you arrive in Cavoli, you may want to park your car on the road and walk down to the beach, as it is almost impossible to find free parking next to the beach, unless you woke up at dawn or you park your car in a guarded parking lot.
Amenities available on this beach
| | | | | | |
| --- | --- | --- | --- | --- | --- |
| | Apartments nearby | | Bar | | Bocce |
| | Connected to Bus | | Disabled | | Equipped beach |
| | Free beach | | Limited Parking | | No animals |
| | Restaurants | | Rocks | | Sandy beach |
| | Snacks | | Snorkeling | | Suitable for Children |
| | Suited to Kayaking | | Toilet | | Watersports |
Select all
Hotels
a Cavoli
Spiaggia di Cavoli - 57034 Campo nell'Elba
Online availability request
Elbaworld suggests
Discover places and attractions nearby.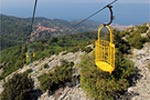 Discover incredibly beautiful excursions on Elba Island.