Colle d'Orano, town
of the municipality Marciana
Colle d'Orano Tourist information
Colle d'orano is a location situated on Costa del Sole at the extreme end of the western side of Elba. The little village rises at about 140 metres upon the sea level facing Corsica and Capraia island and offers every evenings beautiful sunsets.
This small location within the municipality of Marciana is about 6 km away from it, is perched in the Mediterranean vegetation and in part it belongs to the Tuscan Archipelago National Park. Particularly beautiful is the contrast between the bright colors of the coast and the cobalt green of the sea. This is a place by peace and quiet even in the high tourist season; it is thus the ideal destination for those looking for a relaxing holiday in Hotels or apartments for rent in this area.
The heart of the village is grouped around the lovely Church of Santa Maria Ausiliatrice in the main square dating back the 18th century. Closeby you will find a grocery store, a tobacco and a restaurant-pizzeria along the main road
Beaches close to Colle d'Orano
There is a little cove called Le Buche on the coast and it is reachable by foot via two trails that start from the village. The cove offers beautiful clear sea and ideal seabed for snorkeling and diving. Closeby it is possible to visit the near beach of Patresi which is about 2 km away as well as the location of Capo Sant'Andrea about 3,5 km away.
Elbaworld suggests
Discover places and attractions nearby.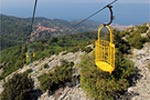 Discover incredibly beautiful excursions on Elba Island.