Colle Palombaia Beach
Colle Palombaia Beach Tourist information
Pebbly beach within the Municipality of Campo nell'Elba
Features of Colle Palombaia beach
Length: 250 meters - Average width: 30 m
Exposed to: Southeastern winds
Sheltered to: winds from North to East
GD: 42.735848 - 10.203917
GMS Latitude: 42 ° 44'9.055''N - Longitude: 10 ° 12'14.101E

---
Description of Colle Palombaia beach
Also known as the beach of cento scalini (hundred steps), the beach of Colle Palombaia, is a viable alternative if you want to escape from more crowded beaches within the municipality of Campo nell'Elba. Enough wide, the shore is mostly made up of gravel and sometimes sand. It looks like a wild beach but in summer it offers a rental service for umbrellas and sunbeds.
Surrounded by picturesque white cliffs, the beach is sheltered from north winds, therefore it is comfortable also in spring and autumn. The clear sea and the proximity to the rocks makes this place a popular snorkeling spot.
Access to the beach of Colle Palombaia
If you are coming from Marina di Campo by car, follow the road towards Cavoli. About 2.5 km later, near the signed crossroad for San Piero, there is a large dirt parking lot where you should park your car, as the closest parking above the beach is very small and private.
From the dirt parking lot walk along the road that leads to Cavoli, after about 50 meters there is a small path on the left which takes you down to Colle Palombaia beach, across a granite flight of steps called the 100 steps.

Foto by Colle Palombaia Beach
Amenities available on this beach
| | | | | | |
| --- | --- | --- | --- | --- | --- |
| | Beach sand mixed with gravel | | Bocce | | Connected to Bus |
| | No animals | | Not accessible by car | | Parking |
| | Snorkeling | | Unfrequented | | |
Select all
Apartments a Alzi
Loc. Arnaio, 161 - 57034 Campo nell'Elba
Hotels
a Marina di Campo
Via per Portoferraio, 39 - 57034 Campo nell'Elba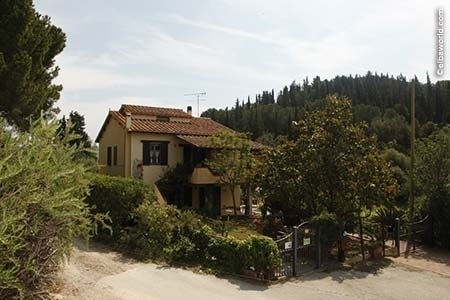 Apartments a Marina di Campo
Via di Castiglione 668 - 57034 Campo nell'Elba
Online availability request
Elbaworld suggests
Discover places and attractions nearby.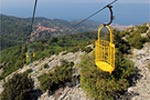 Discover incredibly beautiful excursions on Elba Island.