Poggio, town
of the municipality Marciana
Poggio Tourist information
Poggio looks like a charming and fairy little village once known as Podium Marciane. Today is a quiet location within the municipality of Marciana rising on a mount at about 330 metres up the level of the sea behind the gulf of Marciana Marina which is about 5 km away.
Behind Poggio there is Mount Capanne known for being the highest top of Elba Island (1019 metres). The top is reachable via a cable car and from there one can enjoy a stunning view over Elba and the other islands of the Tuscan Archipelago. Following the main road shadowed by chestnut trees which goes from Poggio to Marciana, you can reach the famous Napoleon's spring, once called " fonte dell'acquaviva" (living water spring).
The goodness and the qualities of this water pushed the first promoters of Elba in the world to raise the awareness about the small village as Poggio Terme. The name of the spring is dedicated to Napoleon because during his exile in Elba the emperor was often visiting this village and appreciating its water's qualities.
Besides the top of Mount Capanne which is reachable by trekking via the signposted trails, there are also huge wood forests characterized by ancient chestnut trees.
The little village of Poggio is characterized by small alleys and squares made of granite. This charming location celebrates each year the typical Sagra della castagna (Chestnut Festival).
This traditional event takes place in Castagneto square in Poggio where it is possible to taste and purchase different types food all chestnuts based. In fact, you will be able to enjoy a wide range of traditional recipes made with chestnuts and any other local product as well as good wine. These chestnuts come from the forest that surrounds the village and all the nearby area below the Mount Capanne .
Points of interest Poggio
Nearby Poggio it is possible to visit some of the Napoleon's sites such as the Fonte Napoleone (Napoleon's spring) and the Napoleon square. Among the main natural attraction we suggest to visit Mount Perone and Mount Capanne.
The places of worship in Poggio are Church of San Niccolò and Church of San Defendente. Worth visiting is also the Ethnographic Casalino del Castagno Museum for the exposition of old local agricultural tools and other remains dating back the bronze era.
We also suggest to visit the following architectures: I Caprili, la Casetta Drout, la Villa del Buono e la Villa della Valle.
Places of worship at Elba
Museums
Elbaworld suggests
Discover places and attractions nearby.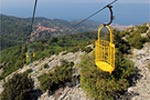 Discover incredibly beautiful excursions on Elba Island.