Church of San Niccolò
The Church of saint Niccolò bishop is placed in the old city center, and to arrive there is necessary to walk throught a little street in the old town city between the hauses. Once arrived at the Church, that is raised by staircases , there is a square that open a wonderful landscape on the valley.
At both the sides of the Church are built two bastions, that once a time gave protection to the inhabitants, who could seek refuge in its renforced walls. Inside the Church it's good to see the covered roof sometimes built by greek cross, that came from the seventieth. Inside the Church has been saved the heart of Michelangelo Paoli, that comes from 1854.
Elbaworld suggests
Discover places and attractions nearby.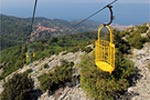 Discover incredibly beautiful excursions on Elba Island.