The Church of San Defendente
The
Church of San Defendente
is placed between the walls of village
Poggio,
the little village at the west coast of the isle Elba, not too far from the village of
Marciana,
to whom it belongs to.
The Church belonged to the confraternity of the Holy Sacrament, and was built at the beginning of the XVI century. In 1786 was restored and nowday has a facade with four pilaster strips and corinthial capitals. Inside the Church the place is characterized by an only nave, that grows in height, where there is an ancient organ, coming from XVIII century.
Inside the Church there are also painting that portray the Madonna Assunta with the souls of the purgatory and the statues of the dead Christ and Madonna it self.
Elbaworld suggests
Discover places and attractions nearby.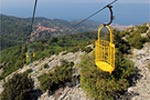 Discover incredibly beautiful excursions on Elba Island.