Casetta Drout
After 200 years, during the Napoleonic Bicentenary in 2014 (two hundred years after he arrived on Elba), the XVIII-style house museum is open to the visitors. Casetta Drouot is named after Count Antoine Drouot, appointed governor of Elba Island by Napoleon Bonaparte; it is a XVIII century private historical building, it is located in Poggio, in Marciana commun, and within its elegant walls it houses typical Elban style ornamental wall paintings.

Casetta Drouot ispired some talented writers, for instance Ernesto Ferrero who won Premio Strega with his novel "N", whose pages offer a romantic description of the house, and Massimo Nava, who told the relationship between Napoleon and his lover Maria Walewska in "Infinito Amore".

This pretty house covers one floor, it looks out onto both North and South: on the North-West towards Marciana and the chestnut trees green forests, and on the Southern side it looks out onto the sea and the creeks.

Inside the beautiful house, among other things, there is a French bed (in Italian, "letto a barca" because of the ship shape of the bed) belonging to the French soldier Charles Van Caenegem, from the 2nd Légion de Gendarmerie of Sainte Gauburge.
Guided tour are made only on appointment, and it is possible in the evening as well, after a candle-light dinner, with up to 15 people.
Information about Casetta Drout Guided Tour
Opening Hours

All year long on appointment

Day: 10:00 - 13:00

Afternoon: 16:00-19:30

Prices

€ 4,00 Children (6-14 years old)

€ 10,00 Adults

Free entrance for children up to 5 years old

Location and Info

Poggio town - Compagnia teatrale dei Tappezzieri

Tel.(+39) 0565.997053 - Cell.(+39) 335.59263577
Elbaworld suggests
Discover places and attractions nearby.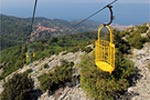 Discover incredibly beautiful excursions on Elba Island.