The Ginevro Mine
The Ginevro Mine
, is the only underground reservoir of Elba Island and the largest underground magnetite mine in Europe. Magnetite is the best material to be used in the steel industry, and is an oxide containing the highest percentage of iron.
The Ginevro tells the most modern story of the Elba mines, thanks to new technology allowing to explore new corners of the mountain. The first open air excavations and the first sections of tunnel above sea level reaching 80 meters began in 1930.
In 1960 began the excavations in the deepest part of the mine, with a descent of over 350 steps carved into the solid rock between -24 and -54 meters below sea level, giving rise to the underground adventure.
Tons of dynamite have been exploded and in the darkness of the mine, the miners, surrounded by dust, noise and low light can win one meter a day helped by the most modern compressed air hammer drills. After the explosion, the tunnel is cleared with mechanical shovels, the wall is cleaned and made safe to continue digging the next meter, up to seven kilometers of underground roads that distinguish the Ginevro mine.
After years of hard work, once the skeleton of the galleries had been prepared, began the construction of the shaft for the extraction basket, that from an area of -​​54 meters reached the deepest point of the mine at about -91 meters below sea level which brought to light tons of ore. In 1970 started the intense exploitation of the mine, which left huge chasms, with holes 20 meters long thanks to powerful drilling machines and use of over 500 kg of explosives at a time.
In 1981 the mining site was able to bring to the surface one hundred tons of minerals each hour. The material was then brought to the washery through a conveyor belt where large electromagnets were separating the sterile part from that ferrous one. This was then loaded on merchant ships transported to the steelworks of Piombino, Taranto, Bagnoli and Genoa to be turned into iron and steel.
In 1981, after 10 years of intense exploitation, the mine closed because of the competition of developing countries, and the tons of Magnetite remained in the heart of the mine represent now a national strategic reserve. Today the gates of the main gallery have opened their doors to the tourists of Mines, curious to visit this historic place during guided tours.
Elbaworld suggests
Discover places and attractions nearby.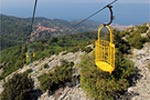 Discover incredibly beautiful excursions on Elba Island.