Mother Letizia Romolino
On August 2nd 1814 Maria Letizia reached, accompanied by Colonel Campell the port of Livorno, to meet her son Napoleon in exile on Elba, who already greeted as she walked in Portoferraio disembark.
Maria Letizia Romolino moved to the nearby Casa Vantini which is situated close to Palazzina dei Mulini, where she spent most of her days by often received the major personalities of the place and its imperial son was home, who loved the evenings with her spend.
Elba reminded her of her life she had spent in the home Corsica, where their eight children into the world saw, the environment was peaceful and quiet and were only interrupted by the news that they arrived from Vienna.
Letizia gave those with bounties, who demonstrated her son acceptance and devotion, contributed to the soldiers who had remained in France and were persecuted by the authorities, aid and welcomed the new soldiers arrived daily from the nearby Corsica to Elba, with generous gifts.
Donna Letizia, was loved by the local people, they estimated, although it was forced due to the precarious economic situation of the emperor to be occasional miserly and liberal valuable in decisions on the taxation of the local population and at the end even their Jewelry sold to help her son economically can, the long standing only a few resources available.
She lived in Portoferraio and moved for a short time after Marciana.
Elbaworld suggests
Discover places and attractions nearby.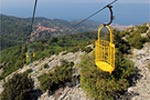 Discover incredibly beautiful excursions on Elba Island.