Nevio Leoni
Nevio Leoni is a famous and appreciated painter from Elba, born in Piombino in 1950. Alessio Sozzi's scholar, he can boast many exhibitions with his works. His painting style is Mediterranean and in his pieces, he pays homage to the place he lives in, which makes him glad and dreamy.
In his paintings, Nevio Leoni depicts summer landscapes that are always beautiful and calm, and with no people. He transforms the colours into objects: the purple and lilac sky, the blue and turquoise sea, the roofs that blend softly from red into orange and are broken down and then put back together according to Cubism, in a figurative representation which is geometrically based, in which the town has a rectangular map that moves back and forth upwards and downwards.
Leoni's love for nature is crystal clear in his paintings, both in the coast landscapes and in the town ones; his art expresses the painter's feeling towards the objects and the people.
Elbaworld suggests
Discover places and attractions nearby.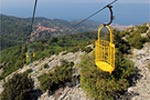 Discover incredibly beautiful excursions on Elba Island.