Italo Bolano
Italo Bolano was born in Portoferraio, on Elba Island, in 1936. Since he was 13 years old, his first paintings have been revealing a dramatic personality, shown through a figurative Expressionism that is represented by the effort and pain made by miners and fishermen from his Island.
He was educated in Florence and later in Padua in architectural composition; later on he taught Design and History of Art in Prato and Florence public schools. Since when he was fourteen , he started taking part to national and international art exhibitions.
Since the '60s his art and passion are represented through a typical abstract expressionism. Worthy of mention are the series of paintings dedicated to his friend Mario Luzi's poems, to Napoleon and to Jesus Christ. The lattest series makes up the Museo di Arte Sacra (Sacred Art Museum), estabilished by Massa Marittima (Piombino) diocese in San Gaetano's Church in Marina di Campo on Elba Island. In his native town near San Martino, Italo Bolano created an "Open-Air Museum" that covers a 10.000 square meters area, in which there is a close relationship between the plants and his twenty-five statues, in a perfect harmony of art and nature.
All along his career, he made some art participations in public works in different Italian cities, with potteries, steel structures and Dallas glass.
It is possible to find his works in both private and public collections in cities such as Amsterdam, Basel, London, New York, Bruxelles, Hamburg, Lausanne, Bologna, Karlsruhe, Ancona, Munich, Zurich, Rome, Sion, Prato, Varese and many others. All along his painting process, he has always moved from the juvenile figurative expressionism to the abstract expressionism.
Elbaworld suggests
Discover places and attractions nearby.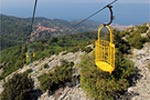 Discover incredibly beautiful excursions on Elba Island.