Adriana Martorella
Adriana Martorella comes from Elba, loves the sea, the nature and its thousand shades and nuances. Adriana paints respecting the nature, and creates unique works of art. The first step is to choose the canvas she paints on: they must be made by loom, of linen and cotton, and come from old people or antiques markets.
Once she finds the perfect canvas, she moves on to the topic she wants to depict, by using 100% natural colours (mineral soils and colours made out of berries and forest fruit, like myrtle): the images in her paintings illustrate everyday life scenes on Elba, from the end of XIX to mid XX century, such as the laundresses by Pomonte ditch or, for instance, a fisherman who carries his donkey on the seashore.
She devoted a special part of her work to the ancient maps of Elba, found in the historical archive in Portoferraio, dated XV-XVII centuries. Adriana Martorella's canvas, before being painted, are treated with a blend of flour, honey and vinegar to make them more resistant so that they can absorb the natural colours in a better way.
The rare encaustic painting techinque, used by the artist Adriana Martorella dates back to XIII century and nowadays is almost unknown. There is a reference to it in a text by Cennino Cennini, written in Vernacular Italian.
Elbaworld suggests
Discover places and attractions nearby.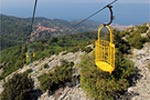 Discover incredibly beautiful excursions on Elba Island.