Recipes from Elba
In local cuisine all typical dishes come from culinary traditions born and moved among miners, farmers and sailors. Dishes made with poor products and today reproduced by elban chefs in a modern way.
Among the most delicious dishes, we recall Gurguglione and Bordatino, whereas among desserts, Rio style Schiaccia Briaca. In some restaurants, managed by the descendants of those old miners and sailors, you can also enjoy other dishes of the local tradition: Sburrita di baccalà, "zeri marinati" and the classic boiled octopus.
Ricotta cheese mousse is a delicious cake in many different versions, some of them with fruit as well.
It was once used as a carbs, sugar and vitamins supplement by farmers and miners, now it's a typical christmas cake.
Old elban Easter cake, as well as the Cerimito typical of Rio Marina and Rio nell'Elba tradition
Old Easter cake, has almost disappeared in its traditional custom in towns Rio Marina and Rio nell'Elba.
Elbaworld suggests
Discover places and attractions nearby.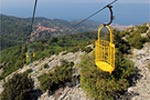 Discover incredibly beautiful excursions on Elba Island.