The Mining Park

Among the protected areas of the Tuscan Archipelago National Park there is also the Elba Island Mining Compendium which includes the mining areas of the municipalities of Rio Marina,
Porto Azzurro and Capoliveri for a total of 1,948 hectares. Its management is entrusted to the Mining Park company, a joint venture body, mainly public, which in July 2001 has launched a series of initiatives in the mining area of ​​Rio, the first of which was opening to tourism.


Elba is considered an open air mine for the amount of minerals that its nature can offer. Enthusiasts and experts can find beautiful mineral collections while walking on Elba's Eastern territory; there are over 150 species of minerals that can be seen in the museums of Elba Island.


Today you can take guided tours into the mines of Rio Marina and Capoliveri and discover the history of Elba by visiting its museums exposing showcases containing precious minerals found over the years in the mines of Elba.
Elbaworld suggests
Discover places and attractions nearby.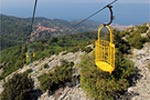 Discover incredibly beautiful excursions on Elba Island.