The Cetacean Sanctuary
Elba Island, together with the other smaller islands of the
Tuscan Archipelago
, lying in the Northern
Tyrrhenian Sea
, is at the heart of the
Cetacean Sanctuary
, a major marine protected area involving three countries: Italy, France and the Principality of Monaco . This marine park has the scope to protect cetaceans in these waters as the
Whale
, the
Sperm Whale
, the
Dauphin
, the
Pilot Whale
,
Cuvier's Beaked Whale
, the
Risso's Dolphin
, the
Spinner Dolphin
and the
Bottlenose Dolphin
.

This sea area that extends for over 90.000 km2 between Italy, France and Monaco, includes
three national parks
and other protected areas. A precious asset for the whole of humanity for it was established to protect and preserve the cetaceans that swim in these waters.
Indeed, Elba is a real paradise for whale watching lovers.

During your holiday in Elba you could ideally see these wonderful species and maybe swim with dolphins, or take unforgettable cetaceans sightings in the wonderful waters of the
Tuscan Archipelago
.
The Islands of the Tuscan Archipelago are formed by the island of Giglio, the island of Capraia, Pianosa Island, the island of Montecristo, the island of Gorgona and Giannutri, the absolute protagonists of memorable diving experiences in the Mediterranean, with its crystal clear waters full of fishes and beautiful seabeds.
You can also take a day trip by boat or a trip around Elba Island, where there are good chances of spotting dolphins.
Elbaworld suggests
Discover places and attractions nearby.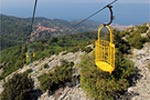 Discover incredibly beautiful excursions on Elba Island.