The Butterflies Sanctuary
In an area nearby Mount Capanne, the Tuscan Archipelago National Park created the Butterflies Sanctuary in honor of the naturalist Ornella Casnati. A theme trail with a lot of signs that explain the types of butterflies existing in that area. There is also a specific book in relation to this place to be found in the major bookstores of Elba. The project was presented in 2010 at the Park headquarters by President Tozzi and his team of experts. 

This was a global initiative that proposed concrete measures toward the arrest of biodiversity loss by that year. A great vision that was also supported by Enel, together with Legambiente, Marevivo and Lipu, with nine interventions on environment preservation, one of which happened in the heart of Elba.


There is a world of butterflies at an altitude of 700 meters, along a 350 meters ridge, in the fifth path of Mount Capanne, accessible from the picnic area of ​​Mount Perone. Nearby there is also Mount Maolo, rich in biodiversity where about 50 species of butterflies fill the green fields and the rocky areas, thanks to a particularly friendly climate. There are the Lycaeides villai, the Maniola jurtina, and even the Melitaea athalia.
"An environment that favors the presence of butterflies, better than Canary Islands, Corsica and other large islands in the world".
This place hosts more butterflies than in Sardinia and they even come from Tuscany. It is a nature's masterpiece, a sacred meeting place for these fragile butterflies and wasps, that is why it is called sanctuary. " A mountain scenery, known for its breathtaking view portraying to the north the islands of Capraia and Gorgona, to the south Montecristo and to west the island of Pianosa and the not far Corsica.


Since April 2009, it became an important example of environmental biodiversity. "Only through knowledge you can truly preserve the environment, understanding the value of its beauty and the treasure that these little beings represent, so as the plants they eat and the interaction with all the weather components".
In short, a microcosm in which one can only feel good enjoying nature for what it offers and deeply respecting everything of great value."
To discover and praise the importance of these environments and these unique butterflies, is to add value to the Tuscan Archipelago.

The Butterfly Sanctuary is a way to discover the natural world and it represents an important example of cultural and scientific heritage of Elba Island. Throughout the year the park sets many initiatives including guided walks through Elba's hills to discover these natural wonders.
Elbaworld suggests
Discover places and attractions nearby.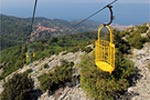 Discover incredibly beautiful excursions on Elba Island.