Spring
Elba Island offers to the tourist a particularly mild climate allowing in some years to have a first bath in the sea during the month of March; the beaches on the southern coast of the Island, such as the beach of Cavoli, known for being the warmest beach on the island, are notably indicated for first baths in the low season. Easter and long weekends in April and May offer enjoyable sunny days, ideal for first sun bath as well as wonderful walks across the flowers of the Mediterranean maquis.
SPRING HOLIDAY IN ELBA ISLAND - EASTER AND 1st OF MAY LONG WEEKEND
During spring Elba looks enchanting and charming, it is indeed a paradise for those who love nature and adventures on the road. It is rich of beautiful blossoms of 1000 colors that characterize the Mediterranean maquis and its Countryside. In this period vegetation is lush emanating unique and unforgettable scents. Climate is well generous and offers mild pleasant days with seasonal temperatures above average during which it is possible to have your first bath in the sea. The temperature of the sea in this season is not so high therefore not everyone can dive into the sea without swim suit.
You can take a nice walk in the Nature, practice different sports and if you want you can be accompanied by expert coaches in trekking, Climbing, Mountain Bike, Kayak and so on… Take day trip excursion, maybe in the wonderful island of Pianosa thanks tours organized by professional and expert guides.
This is the perfect time for those who love sport and Nature for a Regenerating-week end!
With the arrival of Easter Elba wakes up and almost all the activities in the various villages open again after winter break. The villages come back to life, the days become more and more sunlighted and longer, and first tourists start coming for a nice and relaxing week end or to do some outdoor sports.
Summer is seaside holiday time and from June to the end of August Elba and its beaches are a indisputable destination for many tourists.
Autumn is probably one of the quietest months in Elba, ideal for who is looking for peace and want to relax.
Visit the island of Elba during the Christmas holidays between religious events and Christmas markets.
Elbaworld suggests
Discover places and attractions nearby.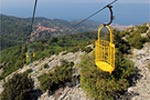 Discover incredibly beautiful excursions on Elba Island.