Chiessi - Pomonte
Path of about 3,5 km of normal difficulty
Starting point: place of Chiessi – Ending point: Pomonte
This route originates from the village of Chiessi, near the church dedicated to the Madonna di Loreto (the route is on dirt tracks, so you should wear the appropriate shoes for excursion). We pass between the sacred building and the Hotel Perseo and we put on the road that climbs gently through the town's houses.

The path leaves the village, skirting some vegetable gardens, and turns into a path that winds among ancient stone terraces, just above the road. From here, you have a wonderful view of the coast, on the open sea and the village of Chiessi. On the track, alternating stretches uphill and flat sections; it is easy to see the goats grazing.

We proceed in a territory witness of a past rural life, characterized by small terraces torn from the slopes of the mountains, which once gave sustenance to the local populations. Still some of these plots of land are cultivated, as if to keep alive the memory of a distant past. The path runs almost straight up to the Pomonte cemetery, then bends slightly to the left and starts sloping down towards our goal, which appears below us in a charming part.

The route runs on a granite-paved surface, passes among many terraces and is divided into a few steps, passing among numerous prickly pears, and then you enter in the village of Pomonte. After a visit to the village, we return to the starting point, retracing the outward journey.
Elbaworld suggests
Discover places and attractions nearby.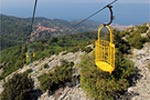 Discover incredibly beautiful excursions on Elba Island.