La Foce - Marina di Campo
Path of approximately 3 km, easy difficulty
Starting point: La Foce
The walk starts from the place of La Foce near the ditch where it ends its run flowing into the sea. We cross the ditch by a bridge and bring us of the wide beach of
Marina di Campo
and we walk towards the village. We meet before a thick pine forest, then some of the bungalows and beach clubs.
We come to a long pier and, from tree-lined avenue on to the road; we see spring up the bell tower of the parish. Here is the possibility to continue our journey also on Mibelli waterfront characterized by tamarisk trees and palm trees. We continue the walk closer and closer towards the old village center, which also features its own marina with mixed use for fishing and tourism.
At the second jetty, we abandon the beach of Marina di Campo to continue on the sidewalk of
Mibelli waterfront,
from where we reach the dock of the fishing boats. So we put along the narrow streets of the
town of Marina di Campo
and continue our walk without routing constraints among shops.
N.B:
if you want to return an alternative to the outward journey will be enough to take once they arrive at the height of the pine forest in the mid gulf, the via degli Etruschi that passes internally and along the pine forest. The street will be slightly longer and will be driven over by cars so you remember to pay attention. During the winter this route is also a great place where gather the shells given away by the waves.
Elbaworld suggests
Discover places and attractions nearby.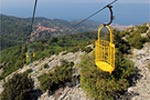 Discover incredibly beautiful excursions on Elba Island.