Elba honey
Thanks to the work and the attention of Elba beekeepers, today Elba Honey comes in many flavours and varieties given by the great biodiversity of the Elba Island from which the bees can gather their nectar. Regarded as one of the more flavour and tastier honey of Tuscany for taste and flavour, Elba honey, thanks to vegetables varieties growing in pristine areas, has an extraordinary flavour that varies according to the botanic seasonal predominance. From the sweet and crystalline Wildflower Honey of Mediterranean zone to the Rosemary (of which there are 14 varieties of Elba), to the Chestnut Honey more bitter and liquid coming from the hives of the Marciana area, are also depending on the blooms, of wildflower honey with a prevalence of Acacia, Eucalyptus, Rosemary, Heather, arbutus, thistle; Lavender.
The typical Elba Honey is a nutritional rich and important product particularly suitable to be paired with soft cheeses.
Some companies have also specialized in the breeding of queen bees marketed throughout Europe and in some countries outside of Europe. Elba Island offers a climate and a unique biodiversity where the bees can live peacefully in their undisturbed natural environment.
Curiosity: the flag of Elba Island is white, divided diagonally by a red band, which starts from the lower left, on which there are three golden bees. Donated by Napoleon on his arrival on the island, the flag was used during the period spent on Elba as a sovereign island, from 4th May 1814 to 26th February 1815. The original flag is preserved in the Napoleonic building of mills in Portoferraio. The meaning of the cloth chosen by the Emperor seems associated with the simple and genuine spirit of Elba people, always ready to reap the fruits of this land with extreme diligence. The Elba residents are industrious like bees, sweet like honey, strong like the rock of this cliff.
The "struffoli" are a dessert dish made of fried balls of dough sprinkled and mixed with honey. They belonged to the elban tradition due to the natural import by the families of fishermen.
Elbaworld suggests
Discover places and attractions nearby.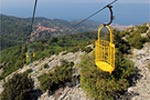 Discover incredibly beautiful excursions on Elba Island.