The Struffoli
The "struffoli" are a dessert dish made of fried balls of dough sprinkled and mixed with honey. They belonged to the elban tradition due to the natural import by the families of fishermen from Ponza Island.
For the preparation of the struffoli, typical dessert of the Neapolitan Christmas tradition there is a recipe for 10 people. This is the original recipe, characterized by the absence of yeast with exceptionally crispy struffoli, if you prefer struffoli more puffy and fluffy you can add a pinch of baking soda to the mixture, but in this case the dough must rest for a few hours.
Ingredients for 10 people: 600 g flour, 2 tablespoons sugar, 80 g butter or 25 g lard, 1 small glass lemon, grated rind of lemon, a pinch of salt, oil for frying.
To garnish and decorate: 400 g honey, colored sprinkles, 100 g crystallized orange, 100 gr candied citron, 50 g candied pumpkin (only in Naples it is named "cucuzzata").
Preparation: take a flour fountain mixed with eggs, butter, sugar, grated rind of half lemon, pour in it the glass of lemon and a pinch of salt. Got the dough in ball shape, let rest for half an hour. Then knit it in various balls like an orange shape and let it rest again. Roll the little balls on a floured surface, forming long poles of about one finger, or thinner if you prefer. Cut them into chunks and arrange them on a floured cloth. When frying go before through them with a fine-tooth comb and shake them to remove excess flour.
Fry them bit by bit in plenty of hot oil, and once the browning pull them out and let dry on paper towels. Let to melt the honey in a double boiler and add it to the struffoli reshuffling until pastry is blended. To form the doughnut take a serving dish and place the glass a glass arranging around the pastry. With honey still warm, of your choosing the struffoli can be garnished with sugared almonds and candied fruit. Wait until the mixture has cooled and solidified before serving.
Elbaworld suggests
Discover places and attractions nearby.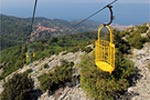 Discover incredibly beautiful excursions on Elba Island.