The Mines of Rio
Just out from
Rio Marina
, north-west of the village begins the mining site of Rio that stretches north up to
Mount Giove
.
Even the site of Rio, like that of Rio Albano, is characterized by other minor mining sites which have changed names and uses during the millennial mining activity.
The most ancient sites are those placed at lower altitudes: the sites of Vigneria and Bacino.
The mining site of Vigneria was exploited already during the Etruscan times and it is today divided in two by the road that connects the village of Rio Marina to the tourist resort of Cavo. Processing plants were built in the sea and the loading wharf is still clearly visible.
The mining site of Bacino began its exploitation in Etruscan times, remaining active until 1977 even though, following the opening of new fronts, it was used as location to process minerals in the most recent times.
The mine of Valle Giove (Jupiter Valley), is the largest mining site and the most recent mine of Rio, which started to be exploited in 1950 and appears today to the eyes of the visitor as a huge amphitheater featuring terraces with steps about 10 meters high.
The mine Rio also consists of other smaller mining areas like the sites of Bottaccio, Filone basso Antenna, Falcacci, Piè d'Ammone, Rosseto, Pozzofondi and Zuccoletto.
Elbaworld suggests
Discover places and attractions nearby.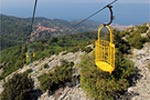 Discover incredibly beautiful excursions on Elba Island.