The Mining Site of Vallone
The
Mining site of Vallone
is the oldest place of iron extraction in the municipality of
Capoliveri
. The mine is clearly visible from the sea along the
Costa dei Gabbiani
(Coast of the Gulls), where mining activities have marked the territory with steep steps leading down to the sea, rich of bright black stones characterized with shimmering blue and green veins that cut across the territory. Today the site is closed and looks like a natural open air amphitheater that, thanks to the Mediterranean maquis is getting back its original wild asset.
The mine Vallone shows clear signs of a millennial mining activity with recent traces of the latest machines dating back 1981 when the last active mines of Elba Island were closed.
Impressive are the old abandoned processing plants, clearly visible from the sea.
The most recent mining activities, done with extensive use of explosive, have deleted the most remote traces indicating where the Etruscans and the Romans were taking Hematite, Limonite and Pyrite so as the abundant native Copper extracted much earlier in time.
The intensive exploitation of Vallone mining site started in the nineteenth centuries and in the first years of 1900 until the second postwar period when the advent of more advanced technologies and processing had caused the change of the look of mountains and coastline over the years.
The extractive activity generated throughout the time a beautiful white beach, that got formed with the deposit of beautiful iron free minerals which were discharged as waste along the coast.
The incredible mineralogical variety of the Vallone mining site is a great destination for those who are passionate about minerals and collectors looking for samples of Azurite, Malachite, Chrysocolla, Aragonite, Gypsum, Garnet, Epidote and Ilvaite to widen their mineral collection.
Elbaworld suggests
Discover places and attractions nearby.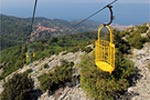 Discover incredibly beautiful excursions on Elba Island.