Sailing
Elba is an island extremely loved by sailors who love sailing through the
Tuscan archipelago's
crystal clear waters. Perfect for sailing, there's always a mild sea breeze even during windless days, Elba also offers several
sailing schools
where it's possible to learn the basic theories of this fascinating sport.
In almost every town there's a
sailing club
with a theory and practice school where sailing lovers can take daily and weekly sailing lessons according to their training level, with
qualified teachers
that can speak different languages. There are adult and children
courses
at Elba, for beginners and experts , and also course to get a boat license.
For sailors on holiday in Elba, there are many touristic dockings and hidden bays where to stop with their sailing boat . blown by the wind it will be possible to look for unspoilt corners where to dive in a crystal clear sea and enjoy a relaxing day. You could discover the wonders of Elba by sailing, maybe reaching Capraia island wild coasts and also other islands of Tuscan archipelago, one of sailors favorite places. Sailing boat is perfect for a relaxing holiday surrounded by nature and sea, during which you could reach several gulfs and the enchanting Elban bays day by day. You could sail pushed by the wind , through evocative landscapes and wonderful sea beds where you can dive and snorkeling.
If you don't have your own boat there are several sailing boat renting places where it's possible to rent different kind of boats , even sailing boats and catamarans. You can rent them of one day or you can go for a multi daily rent with the opportunity to have weekend or weekly guided tours , with our without skipper on board according to your needs.
Most of the sailing boat guided tours take place around Elba coasts and Tuscan archipelago islands, with an
expert guide
that will lead the boat in evocative bays accessible only by sea. Sailing offers the chance for an
alternative holiday
as well, for a unique experience you will remember for the rest of your life.
Below you'll find useful information for those who want to spend a holiday on a sailing boat at Elba island, we will mention the main harbors and touristic dockings of the island, buoy camps and sailing schools.
Elba offers many sailing events and regattas organized throughout the year by the Sailing Clubs of Elba
Information on Elba sailing clubs and schools , with sailing courses for all ages.


Description of a sailing boat cruise between Elba Island and Tuscan archipelago waters.


Elbaworld suggests
Discover places and attractions nearby.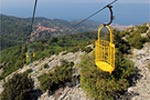 Discover incredibly beautiful excursions on Elba Island.