Sailing clubs and schools
For young people and enthusiasts who want to start sailing , it's possible to do that in Elba, thanks to several sailing schools and clubs on the island. There are several
sailing courses
, organized every year for
different levels
, where it will be possible to discover a different relationship with the sea and do this amazing sport .
Both children and adults can sign up for courses, as they are suitable for expert sailors and for beginners looking for a new thrill. Teachers of several Elba's sailing clubs are well trained and know languages very well, and during their courses there's a constant interaction between theory and practice with sea training.
For those who are interested in getting a boat license in Elba there are courses including theory and practice lessons that will give you the chance to get a
boat license
of first degree by passing a test that will allow you to drive motorsailing boats in and out 12 miles.
Elbaworld suggests
Discover places and attractions nearby.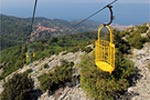 Discover incredibly beautiful excursions on Elba Island.