Nordic Walking
Nordic walking
is a sport suitable for all ages, which is a walk outdoor with poles. Suitable for all ages and
all year round at Elba
, Nordic Walking helps being fit by exercising, because thanks to walking with the aid of poles it benefits blood circulation and heart, it strengthens arms and shoulders, it improves the back posture and tones glutes and abs.
There are many paths in Elba specifically made for trekkers and therefore perfect for Nordic walking, some of them are very beautiful and panoramic.
This sport is truly perfect for everybody and it's also cheap, all you need is the right clothing and the poles, and it's also fun to do because you can do it outdoor and with other people.
The main idea of the sport is to involve the highest number of muscles and therefore increase the energy consumption compared to walking the same distance and at the same speed without poles, and at the same time to improve body fitness.
With the right technique it's possible to involve muscles and to increase heart rate significantly with great benefits for your health.
For those who want to achieve a healthier and more active lifestyle Nordic Walking is definitely one of the most complete sports as it involves more than 600 body muscles with its movements. If you want to take group lessons and group tours we recommend to contact the Nordic Walking association of Elba Island.
Nordic Walking Isola d'Elba Associazione Sportiva
Address: Via Palestro, 42 - 57038 Rio Marina
E-mail: nordicwalkingelba@gmail.com
Roberta Antico: ph. (+39) 339.5044789
Evi Gurtler: ph. (+39) 328.7334361
Felice Sapio: ph. (+39) 328.0081381
Elbaworld suggests
Discover places and attractions nearby.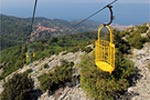 Discover incredibly beautiful excursions on Elba Island.