Tragedy of Sgarallino
With the signing of the Armistice of 8th September 1943, was convinced no one from the end of the war. On the contrary, in order to discourage Portoferraio to a local resistance, it was a disastrous bombing of the Germanized Flight watches which numerous deaths and extensive damage triggered.
But the most tragic event occurred on the morning of 22 September. The steamer A. Sgarallino, militarized previously had to drive with precious cargo and many passengers in the process of Piombino to Portoferraio.
Among them were some soldiers who returned to the demobilization, many civilian passengers and crew, which consisted mainly of islanders. 9:30 AM, at the height of Nisporto a British submarine identified in the ambush, the Nazi flag on the flagpole. With the firing of two torpedoes at close range, was the site of the steamer tore and caused the almost immediate demise. The boat, in two parts and divided into flames ripped nearly all the passenger and crew are down. About three hundred people died on that tragic morning of September, only five were able to save themselves. Elba was quite taken by the great loss.
Elbaworld suggests
Discover places and attractions nearby.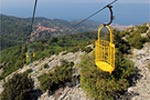 Discover incredibly beautiful excursions on Elba Island.