World War II
The beginnings of
World War II
are a drama in history, as they are characterized by the constitution of the firsts Fascist parties in Elba, the German occupation and bombings, up to the liberation.
In 1921 was born in Portoferraio, the first Fascist combat section of Elba, which was soon followed by the other villages in the island. In this period, which lasted twenty years, no particular events of violence were recorded, probably due to the mild temperament of Elba islanders.
On
September 8
,
1943
the troubles of war reached Elba: the reconstituted democratic forces of the island agreed with the military stationed in Elba to resist against the former German allies. Although they had good intentions, their artillery was very poor to withstand the onslaught. In the morning of
September 16
, the rejection of the German ultimatum caused 16 bombers to fly over Portoferraio, killing 116 civilians and razing the foundry to the ground. The following day, the last resistance of Elba had to surrender to the German paratroopers who invaded the island.
The following nine months under the German control in Elba, were marked by the sinking of the
steamship Andrea Sgarallino
offshore Nisportino, with the death of about 300 civilians. The bombing by the Allies on the city of Portoferraio continued repeatedly, leading the citizens to migrate and leave it as a ghost town.
Meanwhile, France was studying a plan for a big military operation in Elba, which led to the "
Brassard
" operation: in the morning of the
17th of June 1944
the French troops landed in Elba on the shores of the gulf of Marina di Campo.
April 25, 1945, as known in history, is the day of the liberation from nazism and fascism throughout the whole Italy. April 25 represents up to today an important date to remember and celebrate in Italy.
On the 22nd September 1943, took the tragedy of the steamer "Andrea Sgarallino" off the coast of Elba in Nisportino, its course.
The brave Teseo Tesei was born in Marina di Campo in 1909 and died in World War II in Malta.
Elbaworld suggests
Discover places and attractions nearby.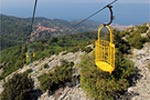 Discover incredibly beautiful excursions on Elba Island.