Saint Gaetano church
Saint Gaetano
church is a XVIII century church and it is consecrated to
Saint Gaetano,
patron of Marina di Campo. It is situated in the most ancient part of Marina di Campo, in the port zone, where there are the most ancient houses surrounding the ancient guard tower. The façade of the little church is wonderful: it as a main door in the middle and two windows on the sides. On the door there is a brick-bordered arch with a wrought iron decoration. An original bell gable with two different sized bells connects the little church to the next building. The church has just one nave and on the two sides there are two little chapels added afterword. In 1800 the grand duke of Tuscany, Leopoldo II di Lorena, offered to the right side chapel a painting portraying the Madonna with two Saints, called Madonna dell'abbandono (abandonment Madonna). It is a really precious work (by a neoclassical painter of the Accademia fiorentina who referred to the Rafael school) commonly called "Maria ausiliatrice" (Mary help of Christians).
The original little chapel was built by the
Spanish
to celebrate the mass for the tower guards. Later it became the main church for people from
San Piero
and
Sant'Ilario
(who went down the hill to farm Campo valley). This church was enlarged more than once but it was never big enough. That's way at a certain point a new church was built.
In the church area there are two cannons of the Spanish period, used by the guards. Later, those cannons where used by fishermen to tie the ropes or to pull the boats out. The church was recently restored and used for the celebrations by the actual priest, Gianni Mariani.
On August 7, the patronal festival of San Gaetano is celebrated in Marina di Campo with processions and fireworks.
Elbaworld suggests
Discover places and attractions nearby.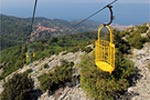 Discover incredibly beautiful excursions on Elba Island.