The Patron San Gaetano
Patron Saint Festival
San Gaetano is the Patron of Marina di Campo, which dedicated him the church situated on the harbor. On August 7, celebrations begin in the afternoon with a regatta in the gulf of the village, followed by the awards ceremony.
At 19:00, the Holy Mass is held at the parish church of Via Roma, followed the procession along the streets of Via Roma, Via Marconi to Piazza da Verrazzano, next the small chapel dedicated to the Saint where the Holy Mass is celebrated.
After the Holy Mass, the patron saint's statue is embarked on a boat (usually a fishing boat), and the procession continues into the sea for the blessing of the whole Gulf of Marina di Campo until the rock of Triglia. The return to the Church is planned for 22:00.
For the event, the village is decked with banners and flags, restaurants often offer typical menu at fixed price and at midnight you can enjoy the fireworks show above the multicolored bay of Marina di Campo.
Brief Info about the Saint
San Gaetano Confessor of Thiene was born in October 1480. His family was part of the Lords of Thiene. His father was Count Gasparo: a soldier who died when Gaetano was 12. His mother was Countess Maria da Porto; the tradition tells that she has dedicated his birth to the Virgin Mary.
While growing, Gaetano walked into the study of Theology (study of God and his relationship with the world) and graduated in Padua in 1504.
Two years later, in 1506 he was called to Rome as private secretary of Pope Julius II and was given the title of Apostolic Protonotary. On 30 September 1516 he became priest, but celebrated his first Mass only on January 6, 1517.
Gaetano began to serve in the hospital of San Giacomo degli Incurabili, then went to Venice where he founded the hospital of Incurabili di Giudecca.
Later, he obtained from Pope Clement VII permission to found the Order of Theatines (Congregation of Clerics Regular) to spread the apostolic message. After that he went to carry out its mission in Naples where he founded the Monte di Pietà to defend the poor against the money lenders. He died there in 1547, on the 7th of August (nowadays date of celebration) and was buried in the Basilica of San Paolo Maggiore.
San Gaetano is patron of the city of Naples together with San Gennaro. In the representations San Gaetano has a black priest dress, with in his arms the Child Jesus who had been miraculously consigned by the Virgin Mary during his first Mass.
Elbaworld suggests
Discover places and attractions nearby.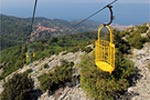 Discover incredibly beautiful excursions on Elba Island.