Terranera beach
Terranera beach Tourist information
Lovely beach with black shiny sand within the Municipality of Porto Azzurro
Features of Terranera beach:
Length: 200 meters - Average width: 10 m
Exposed to: winds from East to Southwest - Sheltered to: fstrong winds from West and Southwest
GS: 42.773659 - 10.419261
GMS Latitude: 42°46'25.172''N - Longitude: 10°25'9.339''E

---
Description of Terranera Beach
Terranera is a stunning beach in the Municipality of Porto Azzurro, located on the eastern coast of Elba and next to the beach of Reale. A peculiarity of the beach is its brilliant black sand resulting from the powder of the mineral pyrite, which is frequent in the area and that together with the reddish colors of land offers a unique show. Unique, this place worth a visit, although not well known and therefore not crowded.
Access to the beach of Terranera
You can access Terranera on foot, by the closeby beach of Reale, along a short path. To reach the beach of Reale from Porto Azzurro, you must take the road number 21 towards Rio nell'Elba and about 2 km out the village, turn right at the sign for Capo d'Arco and Terranera.
Amenities available on this beach
| | | | | | |
| --- | --- | --- | --- | --- | --- |
| | Beach sand mixed with gravel | | Free beach | | Not accessible by car |
| | Snorkeling | | Unfrequented | | |
Elbaworld suggests
Discover places and attractions nearby.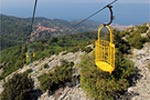 Discover incredibly beautiful excursions on Elba Island.