Reale beach
Reale beach Tourist information
Beautiful sandy and gravelly beach within the Municipality of Porto Azzurro
Features of Reale beach
Length: 140 meters - Average width: 20 m
Exposed to: winds from East to Southeast - Sheltered to: strong winds from West and Southwest
GS: 42.771047 - 10.416005
GMS Latitude: 42°46'15.77''N - Longitude: 10°24'57.616''E

---
Description of Reale Beach
The beautiful beach of Reale, retains a wild look inside a small sheltered bay which is surrounded by vegetation. The beach is characterized by fine sand mixed with pebbles and it has both free zone areas and beach club zone with services, such as paddle boat, umbrellas and sunbeds rent. Behind the rental there is a bar. On both sides of the bay there are rocks frequented for a comfortable sunbathe,which are easy to access. The coastline is very beautiful, with reddish shades that contrast with the green of the sea, which seabed is so rich in flora and fauna that it is really popular among snorkelers. If you want to have a walk, then you can reach the charming beach of Terranera and its pond along a short trail walk.
Access to the beach of Reale
You can reach the beach of Reale along the provincial road 26, which from Porto Azzurro goes towards Rio nell'Elba and Rio Marina. Less than 2 km away, there is a road sign on the right indicating the beach, turn right there towards Capo d'Arco and follow the signs until you reach the beautiful beach of Reale.
Amenities available on this beach
| | | | | | |
| --- | --- | --- | --- | --- | --- |
| | Apartments nearby | | Bar | | Beach sand mixed with gravel |
| | Campsites nearby | | Crowded in the season | | Equipped beach |
| | Free beach | | Hotels nearby | | Parking |
| | Restaurants | | Rocks | | Snorkeling |
| | Suitable for Children | | Toilet | | Watersports |
Elbaworld suggests
Discover places and attractions nearby.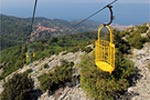 Discover incredibly beautiful excursions on Elba Island.