Relaxing Holiday
The Elba Island is also a holiday destination for tourists who want spend their days in tranquillity to relax theirselves and enjoy the most of their days. For this we have selected a list of structures situated away from the centre of the Island, which becomes chaotic and crowded in high season, for a very relaxing holiday time. On this page we have listed the structures perfect to give you a great relax, for example the ones situated in quiet areas like countryside or hill.
Online availability request
Elbaworld suggests
Discover places and attractions nearby.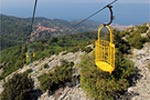 Discover incredibly beautiful excursions on Elba Island.