Holiday for young people
Elba is also a place perfect to have fun and meet new people and, especially in July and August, it is populated by young people coming from all over the world.
Young people love to spend their time at the beach, even if they usually get there late since the nightlife from the previous day. Among the most popular beaches is the beautiful Spiaggia di Cavoli, set in the Western side of Elba and 6 km far from Marina di Campo. On this beach the most popular bar is the Bar Convio direcly on the beach, where parties, aperitives and concerts take place.
Another popular beache loved by young people is the Spiaggia di Lacona, which is the one of the most important beaches of Elba Island, characterized by different sea resorts offering many possibilities to try water sports. This beach is polulated by a lot of young tourists, maybe due to the presence of many campings in the area, as so as the spiaggia di Lido Capoliveri.
On the north coast we have the Spiaggia di Procchio in the Elba's centre, characterized by a thin sand and different seaside services like equipped resorts and rental services, and the spiaggia della Bidola in Porteferraio.
One of the most popular beaches among young people, is the Spiaggia di Marina di Campo, the greater in Elba, mainly loved by family thank to its easy access, to its multitudes of facilities and its thin sand, ideal for children. Due to its big size it also represents a meeting point for young people.
Amont the innovative beach and water sports it is possible to rent a water motocycle provided that you own a nautic driving license and the innovative Jetley Flyer, A system to flushing out that allows us to release in air and to do some acrobacies. The jet pack is connected to a little ship, usually a water motocycle that push the water indipendently. Other sports activity to do on the beach are the Sup, Surf, the Windsurf and the presence of rental services and some schools for sailing course, shipping, and pleasant journeys on the kayac,. After a day spent by the sea, young people prefer get to the village before dinner, where the elban movida begins.
Select all
Hotels
a Marina di Campo
Viale degli Etruschi 207, Marina di Campo (LI) - 57034 Campo nell'Elba
Camping sites
a La Foce
Via della Foce, 379 - 57034 Campo nell'Elba
Apartments a Marina di Campo
Via Roma 168 - 57034 Campo nell'Elba
Online availability request
Elbaworld suggests
Discover places and attractions nearby.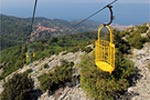 Discover incredibly beautiful excursions on Elba Island.