Hiking in Volterraio
Route Castello del Volterraio
- Journey time: 3 hours
- Ideal route for: hiking
- Gradient: 610 meters
- Difficulty: middle
The route starts from the central square of Rio nell'Elba at 178 meters above sea level, to reach the Castello del Volterraio through a scenic path and come back to the starting point along 12.8 km, with a trail of mixed 5,2 km of asphalt path and 7.6 Km of dirt road.
Starting from the square of Rio nell'Elba, you take a steep road that initially runs through the village until you reach the locality Le Panche at 327 metres a.s.l., ideal place to take a break thanks to the area with picnic tables. From this area, characterized by pine trees, we put on the paved road which stretches on the left: it is very scenic, because it overlooks the Gulf of Portoferraio and in approximately 2 km will lead us to the slopes of Volterraio.
We continue along a narrow dirt path which crosses the Mediterranean forest with small bushes to continue along the final stretch on the bare rock, until the mysterious Castello del Volterraio, perched on a rock spur at 394 meters above sea level. The castle was built during Pisan age to protect the eastern populations by frequent attacks of pirates; then, its purpose was to be a watchhouse against assaults from the sea and was used as a shelter in case of aggression.
The majestic Castle of Volterraio is perfectly integrated with the impervious rock upon which it was built and overlooks the North coast of the island of Elba. You continue our journey along the asphalt road you walk for about 4 km until you reach the Romanesque church of Santo Stefano alle Trane (12th century).
Alongside the ancient furnaces, we climb with a path up to the main trail, which continues on the ridge connecting the peaks of the eastern slope. Heading north along the ridge, you can admire a magnificent view that spreads on all the Gulf of Portoferraio, the agricultural plain of Magazzini and to the South up to Porto Azzurro with all the eastern part of Monte Calamita.
Once arrived at Monte Castello, situated 390 metres above sea level, overlooking the quiet valley of Montserrato and the namesake impressive sanctuary dedicated to the Madonna Spagnola, you continue the path until you reach the top of the mount to see another amazing view which opens to 360° on Rio nell'Elba, on abandoned mines and on construction sites, and you can also see the Giogo Tower , and the imposing Castle of Volterraio. On the eastern side you can see the beach of Barbarossa and the town of Porto Azzurro a bit in the distance.
You come back in Rio nell'Elba, along the last stretch, thanks to a descent, steep and fast, which takes you back to locality Le Panche.
Suggestive place, the castle lays down on Volterraio Mount and from its panoramic position overlooks and controls Portoferraio Gulf.
Elbaworld suggests
Discover places and attractions nearby.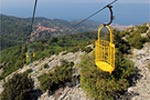 Discover incredibly beautiful excursions on Elba Island.