Roast of bonito
The bonito is part of the family of mackerel and tuna. It is drawn twice a year; one that runs from late spring to early summer and the other from late September until late November. In the waters of Elba island, there are some strategic areas for fishing of this kind of fish, which is often wrongly considered a poor relative of the tuna, as a matter of fact it is a very tasty fish that is used to countless preparations.
Preparation of the roast of bonito: fillet and open like a book the bonito, put it between two sheets of waxed paper and gently tap. Prepare a breadcrumbs flavored with salt, pepper, lime peel, 1 white egg, parsley and 1 garlic clove. Stuff the bonito, roll up and tie like a roast. Sauté 10 for side and spend 5 minutes in oven at 200°.
Preparation of the potatoes with thyme sauce: boil potatoes in milk, previously peeled and cut with the addition of onion and thyme. Stretch to the end of cooking with fish broth (ideally obtained with the bone of bonito) and mix with salt.
Preparation of confit peppers: put in the oven a red pepper, cut into julienne with a pinch of salt and a teaspoon of brown sugar, for 10 minutes at 180°. Serve the bonito with cream and pepper and garnish with the salad raw. Serve with a drizzle a little extra virgin olive oil over it to finish the dish.
Elbaworld suggests
Discover places and attractions nearby.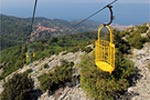 Discover incredibly beautiful excursions on Elba Island.